Cindy and Cristi
are now married!
Our Story
Before We Met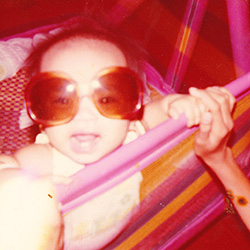 Cindy: I was born and raised in the Philippines. I really wanted to be a "scientist," but fear of not having "anything to do" after college graduation led me to medical school. I hated it, of course. My brain liked analyzing, calculating, and juggling numbers and equations... and med school's hours-of-reading and memorizing? Pure, unadulterated torture! The only two things I loved about med school was getting to join the UP medchoir, and being friends with people who liked to sing (and eat!). Being part of the choir was also quite instrumental in my getting a 10-year-pre-9/11 US tourist visa, and eventually applying for training in the US. (Yes, I got to like medicine afterwards!)
I moved to NYC from Manila in 2006. I lived in Hell's Kitchen, just a couple of blocks away from the Theater District, and spent almost every weekend lining up for $25 student rush/lottery ticket to every Broadway show that opened. There were a few shows that I actually saw more than once! *cough* Xanadu x 7 *cough*.
After 3 years, I moved out to Queens/Long Island to be closer to the hospital where I ended up doing my fellowship training -- this solved the problem of getting a car, and added a bonus of getting extra 15 minutes of oh-so-precious-sleep every morning. Medicine has gotten way cooler too -- as I was just dealing with cancer and blood disorders (I'm a nerd, so sue me!). I finally graduated in June 2012 (after 31 years of schooling), and ended up joining a practice in Kansas, thanks to my J1 visa. Life's been good though -- did I mention that I met the cutest Romanian boy amidst all this?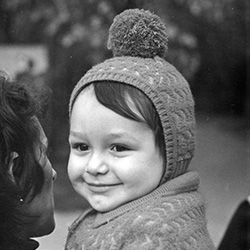 Cristi: I grew up in Romania, during the last years of the communist regime. I was a geeky kid, more interested in reading science fiction stories than playing outside. In the 4th grade, my parents enrolled me into a basic programming course and bought me a "home" computer (a Romanian ZX Spectrum clone); since then I knew what I wanted to do for the rest of my life.
I pursued computers through high-school and college and made wonderful friends during those years. We'd gather a few times a week at my place to watch movies, play games and talk into the wee hours of the night.
I never expected I'd leave my home country - I was happy and had good prospects after college, but fate had other plans. At a friend's wedding party I met a girl that lived in the US and after a year of long-distance I had the opportunity to come to the United States for a Master's program in 2005. Even though the relationship did not last, I ended up winning the green card lottery and decided to stay for a while, which turned out to be for good.
How We Met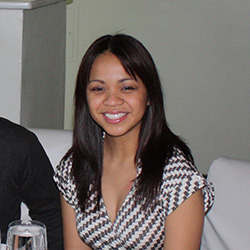 Cindy: Living in NYC as a single girl wasn't really a sure-fire way to meet other people:
(1) I was a medical intern/resident/fellow, so I practically lived in the hospital, and had to budget my free time wisely between sleeping, eating, doing the laundry, and watching Broadway shows. (See above)
(2) All my close friends were straight-looking/acting gay men. So

(a) Other people thought I was only interested in dating good-looking Filipino doctors
(b) I got the best of both worlds --- I had über-fashionable shopping buddies, who also carried shopping bags for me at the end of the day. :)
(c) There was always someone who I can "drag" to see a Broadway show, spend some time at the spa, line up for the midnight-screening of the newest SATC movie, and get some froyo from Pink Berry / Red Mango at weird hours of the night.
Unfortunately, I was cramping my gay friends' style. And they got tired of having a fag-hag third wheel all the time, so they signed me up for chemistry.com on my 30th birthday. My then-Friendster profile got hashed and re-hashed to seem like it was originally written for a dating site. But chemistry.com's "process" seemed too long. First I had to look through a few potential matches that the system sent out each day. Then I had to send my "match" a million questions, and then it was my turn to answer a million more questions, and then.... Nope, sorry. I'd rather sleep. After six months, a new profile was created by the then-frustrated-but-still-fabulous-gay-friends on match.com. Now this was more my speed! I clicked on someone's picture, said hello, and I was done. Because of this, I finally got to meet a few people. Some didn't even resemble their pictures, some were d-bags, and some were just plain weird. All of them didn't get past the first date. Some didn't even get past the first 30 minutes (those were the few times in my life that I loved carrying a pager!).
I saw Cristi's picture among the "people that checked your profile" list. I figured I might as well look through the profiles of people that noticed me first. Hehe. I clicked the "wink" button, and a couple of hours later, I got a message. We met up for dessert ten days later. Two weeks after that, we met up for yakitori. I just couldn't help it; Cristi knew my weakness -- food. This was followed by bubble tea, Neapolitan pizza, crepes, kürtőskalács, foie gras, papanași, mille crépe, red sonja, almond croissants, icre... (now I'm hungry). One thing's for sure -- my stomach, my heart, and my hypothalamus are all so grateful that I got the courage (and was still awake) to click that "wink" button on a post-call day in January 2010.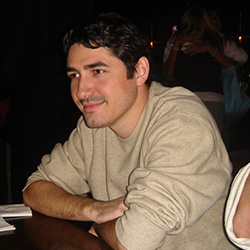 Cristi: In December of 2009, I decided to take the plunge and try a genuine online dating site. I had tried the free Craig's List a few years prior and I've had the luck of meeting nice, interesting people; however, the men's ads section on CL was a cesspool of topless (and sometimes even bottomless) pics and not-so-subtle sexual innuendo descriptions that sent me running. There was no way I'd look for a nice girl in that crap pit, so I went looking for paid - and hopefully, more professional - websites. In the end, I picked match.
After a couple of unmemorable dates, I met Cindy at the end of January. We had a great evening at one of my favorite dessert places in town, where I discovered we had so many things in common, both being geeks and avid foodies. We scheduled a second date on the spot thanks to my vast knowledge of NYC eateries - which proved to be an inescapable lure. A third date that we were supposed to have at a bubble tea place did not happen due to Cindy's erratic hospital schedule, so I got the bubble tea and went to her instead. Two hours by subway, train and bus, all worth it: at the end of the night I got what every guy dreams of: a hug, a pat on the back and a shove on the return bus :)
Cindy: But it was getting late and you were going to miss the bus!
Engagement
Cristi: During our second year, I already knew Cindy was the one and I was looking for the right time to pop the question. I wanted something special - ideally during a trip abroad to one of the places we love - or love to visit. Sadly, since Cindy needs a visa to travel pretty much anywhere, any surprise would have been ruined, so I had to pick an easier destination.
We have both been to San Francisco before and loved the city. So I booked flights and a hotel shortly after returning from our friends' wedding in Punta Cana. I sold it as a "weekend getaway" - as if we hadn't just come back from a trip - and she bought it.
The plan was to walk around the city all day and look for a nice, romantic spot where I could propose. In case no such opportunities would arise, the backup was to do it at the fancy French restaurant where we were going to have dinner. Finally, the backup for the backup would have been back at the hotel, where I had the management set up our room with flower petals and champagne.
In the end, after roaming around the city all day, we ended up in the Golden Gate Park, at the Japanese Tea Garden. It's a beautiful, secluded place, perfect for a relaxing stroll. We walked around until I spotted a stone bench overlooking a small garden, away from the main traveled area, with the added bonus of having a place to put my camera on (as I was planning on filming the event). Unfortunately, some other people (two older gentlemen, if memory serves me right) decided to sit down right in front of us, so we had to wait around a bit. Cindy kept asking why we were waiting to sit down on one particular bench in a park full of them, but I explained that it would be a great spot to have our picture taken (it was). Once we got to sit down, I set the camera on a wooden log across from us and started recording.
I said a speech about our time together and how happy she makes me, but Cindy was more focused on the camera than me, afraid that someone might snatch it. She kept asking me why I have left it there after the picture, not knowing I was recording the moment. Finally I kneeled down, asked her to marry me and got the answer I was hoping for. Yay!