Cindy and Cristi
are now married!
The Wedding
Both the ceremony and the reception will take place at the Fairmont Hotel in the Nob Hill district of the city. We will start at 5 pm, and the dinner reception is scheduled until 11 pm. Afterwards, we can continue the party at one of the many bars in the area.
The address of the hotel is: 950 Mason Street, San Francisco, CA 94108. The front desk can be reached at 415-772-5000.
Ceremony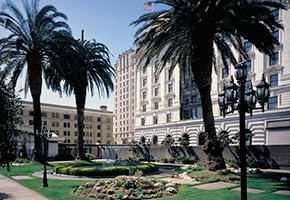 The ceremony will take place on the rooftop garden of the Fairmont: a lush garden with a fountain in the middle, surrounded by beautiful flower beds, under the shade of palm trees.
To get to the rooftop garden, take the elevator to the lobby level and follow the corridor on your right.
The Reverend Peadar Dalton will preside over the ceremony.
Cocktail Hour
The party will start with a cocktail hour at 6 pm at the Pavilion Room, featuring a string trio, and local and seasonal food and drinks.
Reception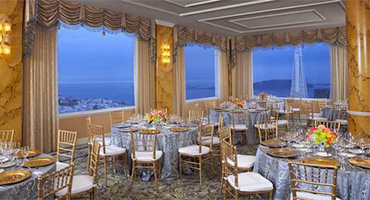 After the cocktails, we invite you to the Crown Room located on the top floor of the Tower building for dinner and dancing. Just follow the signs out of the cocktail area and take the elevator all the way up. Enjoy the breathtaking view as we prepare for dinner.
Please let us know ahead of time if you have any food allergies or if you require a special diet.